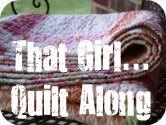 Ding ding ding! Done!
Okay, I think I know how Jennifer probably feels about my solid color choice, but …
Yes. Lime green. Sorry, Jennifer, I had to do it. : ) As soon as I pulled the Farmdale for this quilt, I knew it had to be green. It was screaming for green.
This rooster was positively crowing for the green. Just look at him, he's all over it. And I love it too! Plus, it's kind of apple-ish. How appropriate.
This is my favorite block. I love this blue floral to pieces. And it looks fab with the green.
Chain o' blocks.
Bring on Round 4!
http://freshlypieced.com/wp-content/uploads/2010/11/quiltalong-1.jpg
125
166
Lee Heinrich
http://freshlypieced.com/wp-content/uploads/2016/06/freshlypiecedlogo.png
Lee Heinrich
2010-11-11 19:53:00
2016-06-23 20:07:12
That Girl Quilt-Along Blocks