I wasn't going to enter the Block Party at Quilt Story – I didn't think I had any existing blocks that fit the bill, and I had too many other things going on to make one just for this. But I've been seeing all your posts with the blocks you're entering, and I decided I couldn't sit this one out. I guess peer pressure still works on me. If you all jumped off a bridge wearing nothing but your Flea Market Fancy yardage, I'd probably do that too.
So anyway, here's what I came up with. I'm calling it "Photo Corners" because that's kind of what it reminds me of. It's basically a log cabin, but the logs have some bias piecing. I just sewed strips together like you would do with bias binding (lay them perpendicular, right sides facing, and sew across them diagonally). Voila!
Now go look at all the other pretty blocks at Quilt Story. I wish I had time to do a traditional one.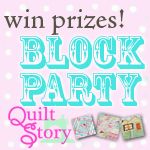 http://freshlypieced.com/wp-content/uploads/2011/02/IMG_2897-1.jpg
400
297
Lee Heinrich
http://freshlypieced.com/wp-content/uploads/2016/06/freshlypiecedlogo.png
Lee Heinrich
2011-02-08 20:43:00
2016-07-07 21:27:40
Block Party Entry