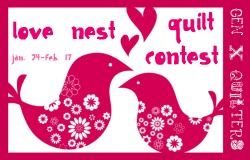 I feel kind of bad posting about this quilt again, since I think most of you have seen it plenty of times already. But I want to enter AnneMarie's fun Love Nest Quilt Contest, and I only have two bed-size quilts to choose from. Of those two, this was definitely my choice for the entry.
And the fact is, I get more questions about this quilt than I do about any other. People love this pattern, and they want to know how difficult it is to make. Plus, there's been extra interest in Single Girl quilts lately, since Katy, Nova, and Megan announced their Single Girl quilt-along. So maybe another post about this quilt isn't out of line.
"Nature Girl" Single Girl quilt
King size (106″ x 92″)
Fabric: Kona Bleached White, Cherish Nature by Deb Strain, Neptune by Tula Pink, Al Fresco by Marcus Brothers, a few other scraps
Quilting: Done by the long-arm quilter at my LQS in the "Bubbles" pattern
Pattern: Single Girl by Denyse Schmidt
How long did you work on this quilt?
Forever. Plus a month or two.
For me, the most difficult part of making this pattern was making the templates and cutting all the pieces. Tedious, boring work. And it took way longer than I expected. Since I was making mine king-size, I made 20 of the rings. That means there are 640 pieces in the rings alone! All drawn with templates and cut out with scissors. (I'm very glad I didn't tally it up before I started, or this quilt might not exist today!)
The most important thing during the templating/cutting step, in my opinion, is organization. Make piles. And plan on those piles being undisturbed for many days—possibly weeks. I also found it helpful to write (in pencil) the template's identifying letter on the back of every fabric piece I cut. Just in case those piles got mixed up or needed to be moved at any point in the process (and they did).
Any "a-ha" moments?
Piecing this quilt was not nearly as difficult as I thought it would be. The rings came together very quickly (especially compared to cutting all those pieces). And the curved part of the piecing (attaching the rings to the white background pieces) really wasn't bad at all, once I got the hang of how to pin it. Hint: Use twice as many pins as you think you need. Then add a few more just for good measure. : ) There's a very good diagram that comes with the pattern about how to pin your pieces.
What inspired you?
Well, it started with me just wanting to make a quilt for my king-size bed. I love modern quilt designs, but every pattern I considered just seemed too boxy and geometric for my not-very-modern bedroom furniture. My headboard is arched, so I wanted something that would work with that. That's when I thought of the Single Girl. For some reason the idea of doing a king-size Single Girl didn't scare me that much—I think it was early enough in my quilting career that I didn't really know what I was getting myself into. : ) Which, in the end, was probably a good thing.
Have you made a modern bed-size quilt? Head over to Gen X Quilters to enter AnneMarie's contest—there are awesome prizes for the winners.
http://freshlypieced.com/wp-content/uploads/2011/02/LoveNestQuiltContest250pixel-1.jpg
160
250
Lee Heinrich
http://freshlypieced.com/wp-content/uploads/2016/06/freshlypiecedlogo.png
Lee Heinrich
2011-02-01 03:25:00
2016-06-23 20:07:07
My Love Nest Entry